Move Your Business Forward
I create the media exposure you need to reach your ideal prospects.
MASSIVE MEDIA EXPOSURE
Instantly transform yourself into a nationally-recognized authority with major media coverage on CBS, NBC, ABC, FOX, and hundreds of syndicated news affiliates.
GET PUBLISHED FAST
Monetize your knowledge, package your ideas, and open new doors of opportunity with a published, best-selling book that highlights your subject matter expertise.
"REALITY TV" VIDEO MARKETING
Want to create an emotional bond with your audience that compels them to take action without you having to "sell" them? The right video will do that quickly and effectively.
I am a best-selling author, freelance journalist and media strategist with a professional and educational background in marketing, psychology and publishing. I worked as a marketing strategist and copywriter for a digital media agency in New York before launching my own media and publishing company in 2013.
I am a contributor to several online business publications and a host on Business Innovators Radio. My work has been featured on CBS, NBC, ABC, FOX, USA Today and hundreds of other nationally-syndicated television, newspaper, and magazine outlets.
"Marketing strategist Ralph Brogden's latest offering provides practical, actionable strategies for helping businesses and brands drive sales by making deep psychological connections with prospects… By the end of the first day of its release on Amazon.com, Irresistible Marketing was already a certified bestseller."
"Ralph Brogden predicts that his style of video marketing is here to stay. 'For years, people were glued to three major television networks and advertisers knew where and how to reach them,' Brogden says. 'Today, everyone is online. With Internet traffic shifting from desktop to mobile, and with the fragmentation of audiences across dozens of news and social media sites, Internet video will continue be the fastest, easiest, most effective way to reach people for years to come.'"
"Ralph Brogden stands out with a focus on building marketing campaigns that produce measurable results for clients."
"Many marketing and media experts like Ralph Brogden believe that Internet video provides the best return on marketing and advertising investment… he creates marketing momentum with [a] breakthrough video approach that delights."
Welcome to WordPress. This is your first post. Edit or delete it, then start blogging!
read more
Partial List of Agency & Consulting Experience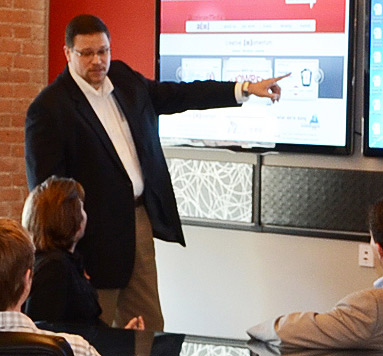 Accelerate Media
Accountable Health Partners
Affordable Agility
Astrapouch
Blitman & King
Buckingham Properties
Business Case
Calihan Law
Child Care Council
Dr. Emory Petrack
D4 Discovery
Dead Ringer
Draft Sharks
Emag Solutions
EnviroTech
Geotherm
Global Partnership Schools
Honor Flight
Industrial Spindle
Laurus Book Publishers
Mitchell Construction
Norbut Construction
Red Zone
Rochester Radiology
Seibold Security
Sharks Ice Cream
SiOnyx
Sports Specialists Limited
STX
Tina Cimino Studio
University of Rochester
Vega Plastic Surgery
The Vein Institute
Wesley Gardens
Wolff SMG
Worldleaders
Xelex
"Ralph Brogden is a true professional who knows how to maximize his clients' opportunities and create the ultimate of success…"
As a businessman who has for the past four decades dealt with hundreds of national companies and their marketing departments, I find Ralph Brogden to be a rare individual who stands head and shoulders above the competition. He is a breath of fresh air, a man of integrity, honesty, and incalculable talents who delivers with excellence on what he promises.
"I would, and do, recommend Ralph in a heartbeat to anyone who is looking for media exposure…"
Before working with Ralph I had no idea of the impact a well written news report can have on my business and my life. My initial intention was to get "some" exposure and I never would have thought I would get the massive exposure as I did. Having Ralph do the news report on me and my project was the best thing I could have ever done and I know I would have never been able to get the exposure, fame and most of all expert status without Ralph's help. His wealth of wisdom and expertise has given me the exposure and expert status that I was looking for even more than what I had expected.
"Ralph's strategic direction helped to improve and form the identity of Accelerate Media…
Ralph has a great ability to get to the heart of what needs to be done and the right strategies to accomplish those things. He also excels at putting systems in place to help propel businesses forward. He's also not afraid to challenge the status-quo. I will always be in debt for his service at Accelerate Media.
"We could not be happier with Ralph Brogden's input and work…"
In early 2015, I was happy to introduce Ralph and his marketing and promotional services to my authors. Several authors were interested and contracted with him right away. The websites he designed and built were beautiful, and I am excited to report that the first author's sales and royalties following Ralph's promotion are the second highest in the history of this company.
"Ralph's creative edge is outstanding…"
His ability to understand the psychology of the target audience, to develop ideal marketing campaigns, combined with the technical knowledge he has to implement the campaigns, is Ralph's most incredible strength.
"The day I contacted you was the start of my business turnaround…"
Your intervention gave me, for the first time in a long time, the chance to do what I do best. In essence, you've given me back my business. The new year looks very promising for me, and I can't thank you enough for all that you've done.
"Ralph's involvement in this area of our business means that I have a solution for it that requires no more further thought…"
Our agency has been using Ralph Brogden's services exclusively for maintaining our web presence. Ralph is responsive to our requests, acts quickly to meet our needs, and does so without a great deal of fanfare. I would highly recommend his services (and to note, I have with my colleagues) to someone seeking to build their media strategy from scratch or completely rethink what is currently in use. From my perspective, Ralph's involvement in this area of our business means that I have a solution for it that requires no more further thought. Ralph's on top of it, and I don't need to worry myself about it. I can't give any higher praise than that.
"I have been most impressed with Ralph's marketing creativity…"
…and his ongoing commitment to meeting our needs as our business changes. He frequently has great suggestions for design improvements and product marketing strategies that I hadn't thought of. I recommend Ralph without hesitation to anyone who is just getting started, or already has an established, robust website.
"Ralph is by far the best…"
Not only does Ralph have a great understanding and intuitive feel for design and the technical aspects of a website, he has the marketing and business expertise to create websites that turn visitors into sales – a skill nearly impossible to find in a typical web designer. He's flexible enough to meet my needs, but firm enough to keep things on track so I can just rely on his expertise and not micro-manage everything. Should you hire Ralph? Absolutely, yes – no question about it!